As the world wakes up in 2021, Rio Arriba Concerned Citizens has also taken a look at our purpose and our service, and has refined its mission.
"We are a grassroots organization that defends against Oil and Gas development in the Rio Chama Watershed, NM while educating and advocating for sustainable, safe energy in our region."
Our considerations under this refined mission are the following:
To inform and educate our community on current issues that affect public health, safety, land, air and water quality in the Rio Chama Watershed.
To promote the Rio Chama Watershed as a model for sustainable development and renewable energy.
To stand for the "Frontier District" as designated in the Rio Arriba County Oil and Gas Ordinance (2009). This district is east of the Continental Divide and home of the Rio Chama Watershed.
To maintain a relationship with Federal, State, and County decision-makers to provide information and education concerning Oil and Gas development and promoting Green Energy to the wider community.
We invite and truly welcome your participation in this mission! You can stay updated on our news as well as announcements regarding our board meetings at our wonderful website rioarribaconcernedcitizens.com.
---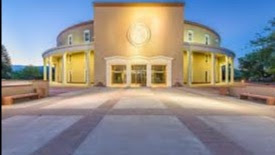 NM Legislative News
As usual, it was a whirlwind of twists and turns as NM Legislators and interests groups moved to clear the way for new pieces of legislation in the 2021 session. A heartening amount of this proposed legislation was about protecting the environment in New Mexico and R.A.C.C. weighed into the fray, tracking and signing onto bills that we thought could potentially have an effect on the Rio Chama Watershed. Unfortunately, many of these important and timely bills got tabled. New Energy Economy folks awarded an "F" grade to this legislative session in their Climate Crisis Report Card.
There are an astonishing array of environmental groups (over 40 signed on to the proposed Green New Amendment bill) working in NM right now and the Rio Grande Chapter of the Sierra Club and other groups like the GNA, did a great job of informing and training grass roots lobbyists so they could have a place at the table. We highly recommend that you become a citizen lobbyist during the next session! This is something you can do from the comfort of your home by calling and emailing legislators and voicing support for a particular bill. The more citizen participation, the more likely our legislators will find it impossible to ignore the will of the people in NM.
One of the bills that RACC chose to track and sign onto was the Green New Amendment. Board member Barbara Turner felt that this proposed amendment to the New Mexico State Constitution (which would be presented to the public on a ballot with a yes or no vote) could potentially help safeguard the Rio Chama Watershed. Like many other proposals, the GNA bill was denied a hearing, let alone a vote, before the Senate Judiciary Committee so it was not allowed to proceed through the legislative process. RACC board member Peggy Baker tracked and supported renewable energy bills among others during the session.
New Energy Economy folks have an update here on all of the final results of the 2021 New Mexico Legislative session.
---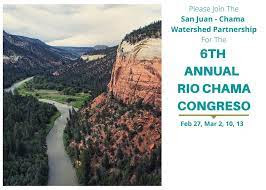 Rio Chama Watershed Congreso
For many years, Bill Clark, President of RACC, has attended the annual, Rio Chama Watershed Congreso. This year's 6th Annual Congreso, sponsored by the San Juan Chama Watershed Partnership, was held virtually and focused on "Uniting our Watershed". The Partnership invited local land-owners, state and federal agency representatives, business owners, students and educators young and old, to share their experiences in our shared landscape.
"The Congreso concept is that collaborative decision-making can combine local knowledge with scientific management to sustain indigenous culture, provide educational opportunity for young residents and protect our resources."
You can visit their website here to find out more about this inspiring annual event and to see a list of the topics covered during this year's session. The watershed community here along the Chama is a soulful collection of individual watershed residents and small, grassroots organizations that believe in the mission to oversee and protect this beautiful place. The Congreso invites your participation in this annual event.
---
NM Finally Finalizes New Methane Rules!!
This is good news folks! Remember a few newsletters back when we reported on Rio Arriba County's high ranking in poor air quality? Our proximity to the oil and gas development in the San Juan Basin has undoubtedly influenced our air quality despite the fact that there has been no new oil and gas development here in our own county in quite awhile.
Well, these new and improved rules in NM around routine venting and flaring at new and existing wells will contribute to cleaner air in our own Rio Chama Watershed. Routine flaring happens when operators burn off natural gas produced from oil wells instead of capturing it or selling it and putting it to good use. To understand the bigger picture of methane and how it affects greenhouse gas concentrations and climate change, check out David Turner's engaging Earth System Science blog post on methane here.
Governor Grisham plans to lead the country in controlling methane waste and improving air pollution rules within our state. Now to complete this mission the New Mexico Environment Dept. has to finalize its own complementary rules that address leaks in the industry.
---
For the last time, I have the opportunity to thank you at the end of our newsletter for all you do to protect the Rio Chama Watershed! I have been writing the newsletter for RACC for 4 years now and find I need a break. Thank you to all my fellow RACC board members who believe in thoughtful discourse and meaningful action around the protection of the Rio Chama Watershed. Stay connected, stay soulfully engaged with this amazing watershed, and I'll see you all further down the line. – Barbara Turner